Technology And Productivity Solutions ( TAP Solutions) Professional Website Development and Website Design services.
Click below for more Affordable Small Business Website Solutions
Custom website designs don't just pop up overnight. TAP Solutions has a detailed process that gives you, our Palmdale customers, the most professional website design possible.
TAP Solutions begins the website design process by meeting with you and learning about you, your company, your products and services. Some sample questions TAP Solutions may ask include:
At TAP Solutions we learn about every aspect of your business so we can accurately and effectively tell your story. We want to get your message out to your current and prospective customers in the best way for your Palmdale company. Your goals are important and the more we know about you and your company the better we can serve you during the website design process. Our goal is to provide you with the most optimal and affordable web design for your company in Palmdale.
Next, we discuss the various pages you may want and need for your custom website. The number of pages required for an effective website will depend on the complexity of your situation and the amount of information your customers will need. TAP Solutions will ask you about what you want on your website pages and how you think the information can best be organized. We know if that customers don't find what they are looking for quickly they move on. TAP Solutions knows how to keep their attention. During this phase some sample topics that we will discuss include:
Your home page, about pull down menus, about the geographic locations your company serves, about how to contact you.
Do you want a theme or a slogan that you want running through all of your pages?
Do you want bios or profile pages for your executives or staff?
Should you have a FAQ page and what are the FAQs your customers ask?
Does your business have multiple locations and do you need a separate page for each location?
Do you need to provide web pages in languages other than English?
What photos, illustrations or other graphics can you provide?
Do you want to provide links to examples of your work or to other companies in a network?
Do you have favorable reviews?
As web developers, TAP Solutions needs to know these types of information so that we can create a website for you that is easy to find on the internet, easy to navigate and that makes not only a great first impression, but serves you and your Palmdale company well at every viewing. TAP Solutions will gladly help you through this and every other step of the process.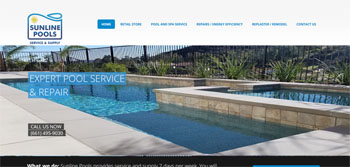 After gathering all this information, we begin the actual website development. We create various custom-made templates for you to choose from. We'll modify them as necessary until you're happy with them. TAP Solutions wants you to be comfortable with and proud of your Palmdale company's website. We communicate and share the development with you because we want your custom website design to represent your company to its best advantage.
Once the concept has been developed and approved by your Palmdale company, TAP Solutions starts to actually build your custom website. This is where the background information we've gathered from your Palmdale company is applied. Building the website includes creating the actual pages, links, coding, search engine optimization (SEO), and bringing the text and graphics together. In other words, this is when TAP Solutions applies all the technical skills required to bring your website to life.
TAP Solutions wants you involved every step of the way. This is how we ensure that our valued Palmdale, clients get the best website development services.
Finally, if requested, TAP Solutions can help you choose the hosting company and finalize the details of your website. If you do not have a domain name TAP Solutions will help you select and obtain one. We will also make sure your website is viewable across all platforms and web browsers.
Once your website is live for all to see, if needed, TAP Solutions can continue to support and maintain your Palmdale company website if you'd like. Our maintenance services can include monitoring and updating search engine optimization (SEO) and search engine submission (SES). If at any time you want to change something, such as text or pictures, or add new pages to keep your site current, TAP Solutions can assist you.
TAP Solutions strives to maintain solid working relationships throughout the web development process and beyond. We know that your website is an integral part of doing business in Palmdale, CA. TAP Solutions wants to help you make that business grow and prosper.
TAP Solutions has many resources. We don't have a "one site fits all" philosophy. TAP Solutions won't force your Palmdale company to fit into a standard framework. We will customize your website so that you and your company look your best on the internet.
TAP Solutions is affordable. We'll work with you to custom-make the best user-friendly website. TAP Solutions is local to Palmdale area. Contact us and we'll meet soon to discuss your professional website designing needs.